Semen For Sale
We have semen available on a number of our bucks. Our semen is stored and sold through Laurie Acton of Tempo Dairy Goats. Please email us for more information.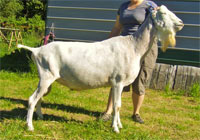 American white, DOB: 02/2011
S: ++*B SG Kastdemur's Tach Lach
D: SGCH Barnowl Buffy 2*M
Semen Available!
Fall 2014 Lease from Son*Sational Farm
American black sundgau, DOB: 03/2010
S: *B SGCH Tempo Very Dark
D: SGCH Barnowl Abracadabra 2*M
Semen Available!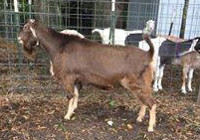 Now owned by HereBeGoats Farm
Purebred chocolate sundgau with wattles, DOB: 01/2012
S: +*B Kastdemur's Up & Atom
D: SGCH Here Be Goats KTL Mai Tai 4*M
Semen Available! $20/straw through Lauren Acton of Tempo Farms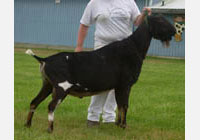 Now owned by Just Because Farm and Pima Ranch
American black/tan sundgau w/ white, DOB: 06/2007
S: +B SG Kickapoo-Valley Travis
D: SGCH Barnowl Bewitched *M
Semen Available!